Awesome, Affordable
Outfits to your Doorstep Each Month
The No-Risk shopping secret to make your friends jealous - even if you have zero time to shop!
Welcome To The New Craze..
Revolutionizing Shopping!

Risk-Free
Without Buying, you'll receive your amazing outfits to try-on in the convenience of home. Keep ONLY what you love, send the rest back using our included return shipping.

Surprise Styles
Love surprises? Each month features surprise outfits consisting of items perfectly styled just for you. No cookie-cutter packages! Based on what you keep, our experts learn more about your existing tastes, helping you discover new styles each month!

Affordable
Items start at $13 and up. There are no weird fees! The only debit you'll ever see is a shipping debit to you, which is credited towards your purchase.
How It Works

1. Take your style quiz
It's fun. It's easy. It's all about YOU!
Why Wouldn't you want to take it?

2. Delivering happiness in a pink package
Every month you'll receive your personalized outfits. Open it up. See your surprises!

3. Keep what you love
No checkout needed! Keep the items that you love. Send the rest back.
We Send Unique, Affordable Items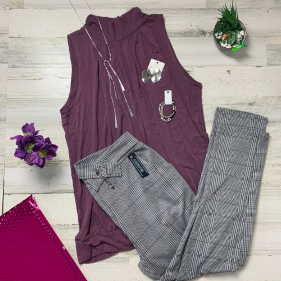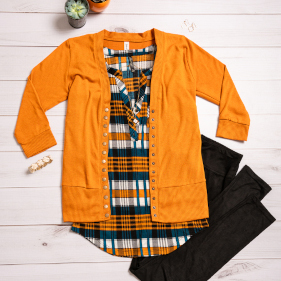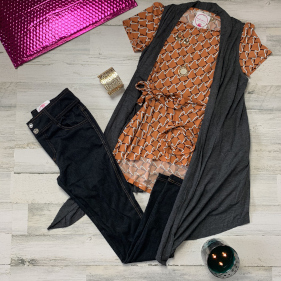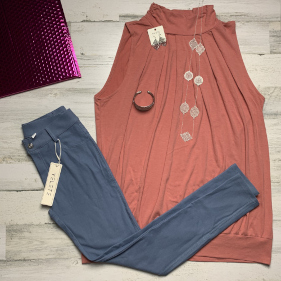 Got Questions?
We are a woman-run business on a mission to empower our members to love their bodies by embracing their unique style. Our bodies are not made to fit into clothes, clothes are made to fit our bodies. By pairing you with an expert personal stylist who cares about what you want from your wardrobe, a Nadine West membership guarantees comfortable and stylish pieces that will flatter YOUR body, delivered to your doorstep, without compromising your budget.

How many items will I receive in my shipment?

Depending on your level of membership, you'll receive between 6 and 14 pieces in each shipment. Typical combos include a few tops (shirts, blouses, cardigans), a few bottoms (shorts, leggings, skirts), a dress and a couple of pieces of jewelry and other fabulous accessories! We also include seasonal items, like shades in the summer or a scarf or beanie in the winter.

We are all about body inclusivity! We carry sizes XS to 3X, and we are constantly seeking brands that have a good selection of sizes to accommodate all of our lovely members!

And how does shipping work?

Shipping and returns are free with your membership! Keep what you love and send the rest back by the Return date using the included Return Postage label. And don't forget leave notes for your Stylist about what you loved (and didn't) in your Nadine West profile. :)

What are the prices on the items?

Items range from $13 to $60. When you keep items, your membership fee will be credited towards your purchase!

How does the membership fee work?

Your membership fee includes styling, shipping, and all other perks associated with your membership level! This fee will be credited toward any items you choose to keep from your shipment. However, it's non-refundable and can only be used for your current shipment. If you have concerns with the styling, please update your Style Profile online or email/text us photos and links of preferred styles, so we can perfect your next shipment. ✨

Can I try the items by wearing them out before deciding?

We occasionally get mistaken for a rental service. We are a store that comes to you! Nadine West items are for sale and we expect that you don't wear any items that you don't intend to buy. You are of course encouraged to try them on in the comfort of your home, pair them with items in your existing wardrobe, and see all the wonderful ways that they will be a great addition.

Do I tell you which items I'm keeping each month?

No need to tell us! Just keep the pieces you love and send the rest back using the included Return Postage. Upon sign up, we securely store your payment information. Anything not returned to us by the Return by date listed on your Packing Slip will be charged. Easy peasy :)

How do I return unwanted items?

Please place unwanted items in the same pink package you received, and put the included Return Postage label on top of the existing one. Drop the package in a USPS box by the Return date listed on your packing slip, and you're done!

How do I pay for items I keep?

Keep what you love and return everything else by the Return date listed on your packing slip. The rest is up to us! We'll debit your payment method on file for the pieces you kept.

What types of payment do you accept?

We accept all major credit cards, PayPal and ApplePay. We currently don't accept prepaid cards.

Why do you guys care so much about my feedback each month?

Using terms like "Classic", "Romantic", and "Trendy" get us close to understanding your personal style, but we don't just want to get close - we want to help you create the wardrobe of your dreams! Sending feedback about each piece you loved, what you hated, and what you want to see more of in your shipments is how you'll get the most out of your membership. The more feedback you give, the better. Getting YOUR style right is our #1 priority!

How do I login to update my style answers, CC info, delivery address, etc?

What brands do you carry?

We carry a healthy mix of well-known and up-and-coming brands!

Can you send more clothing?

We have to stick to the postal service's weight restrictions. However, if you would really like to receive more items, email us at MyOutfits@NadineWest.com, and we'll see what we can do!

We are here to keep you happy, so let us know how we can do better.

Is Nadine West available to non-U.S. residents?

At the moment, US-only. :)

My packaging is damaged. What do I do? :(

Occasionally, the post office hugs our pink packages a little too tight. If you receive a broken item, just email us at myoutfits@nadinewest.com and we'll take care of it.

What if I want to return items for a refund later?

If you sign up for our Premium Membership, you'll be enrolled in the Fashion Freedom Guarantee program. With this program, if you're not satisfied with an item you purchased you can exchange it - no questions asked!

What if I will be away, won't be available to accept the next package and can't return items on time?

We want you to be able to travel without worrying about being charged for unreturned items. Simply shoot us an email immediately so we can pause/postpone sending a new package.

Skipping Months, Pausing, or Cancelling